Press release!
NIL BY MOUTH
A film by Gary Oldman
Ray Winstone, Kathy Burke, Charlie Creed-Miles
25th Anniversary 4K remaster by the BFI National Archive
BFI Limited Edition 2-disc Blu-ray, iTunes and Amazon Prime release on 5 December 2022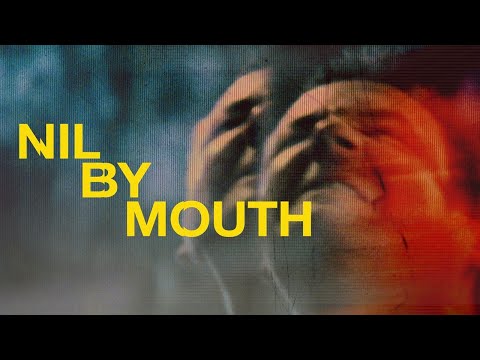 In honour of its 25th Anniversary this year, the BFI National Archive remastered Gary Oldman's directorial debut, NIL BY MOUTH (1987) in 4K. Following its world premiere at the 66th BFI London Film Festival, NIL BY MOUTH was released in cinemas and on BFI Player at the beginning of November. On 5 December it comes to Blu-ray, released in a Limited Edition 2-disc set. Gary Oldman himself contributed to the special features and worked closely with the BFI on this release. A retrospective season of his films is currently taking place at BFI Southbank, running until 29 November.
An uncompromising, double-Bafta winning portrait of a particular milieu of working-class family life in southeast London, where its writer and director grew up, NIL BY MOUTH is a powerful, astute, authentically foul-mouthed account of unfettered machismo, booze and drugs, petty crime and domestic abuse.
The performances are mesmerising throughout, with Ray Winstone as the volatile and self-pitying Ray, Kathy Burke (who won Best Actress at Cannes) as his longsuffering wife Val and Charlie Creed-Miles as her junkie brother Billy. Shot and scripted in a deceptively casual realist style reminiscent of John Cassavetes, this profoundly personal and humane film eschews sensationalism and sentimentality to illuminate a vicious circle of abuse and criminality. A dark but dazzling masterwork.
Special features
• Newly remastered in 4K by the BFI National Archive and approved by writer-director Gary Oldman
• Audio commentary by Gary Oldman and Douglas Urbanski
• Setting The Record Straight (2022, 51 mins): Gary Oldman in conversation with film critic Geoff Andrew
• A Slice of Life (2022, 22 mins): Ray Winstone looks back on his Bafta-nominated performance
• Talent is Worth Trusting: Douglas Urbanski on Nil by Mouth (2022, 16 mins): Gary Oldman's long-time collaborator and the producer of Nil by Mouth discusses how the film came to be made
• Fearing the Worst: Charlie Creed-Miles on Nil by Mouth (2022, 28 mins): the actor discusses his role as Billy, from his audition to some of the key scenes in the film
• People Were Queuing For Any Role (2022, 16 mins): casting director Sue Jones recalls her work on the film
• Mother (1994, 7 mins): the only surviving footage recorded by Gary Oldman for an unrealised documentary about his mother's life and experiences
• Deleted scenes (1997, 38 mins): a series of deleted scenes selected by Gary Oldman
• Galleries – a selection of stills and rare production materials from Gary Oldman's personal archive
• Children (1976, 46 mins): written while still a student, Terence Davies' film has an uncompromising honesty that is echoed in Nil by Mouth
• Trailer (2022)
• ***First pressing only*** 80-page book featuring new writing by Douglas Urbanski, Kat Ellinger, Philip Kemp, and Jason Wood, plus archive pieces from Time Out and Sight & Sound. Also includes contributions from Lou Thomas and Gary Oldman, and never-before-seen original storyboards from the film
Product details
RRP: £24.99 / Cat. no. BFIB1347 / 18
UK / 1997 / colour / 128 mins / English language, with optional subtitles for the Deaf and partial hearing, and audio description original aspect ratio 1.66:1 // Disc 1: BD50, 1080p, 24fps, 5.1 DTS-HD Master Audio, PCM 2.0 stereo audio (48kHz/24-bit) // Disc 2: BD50, 1080p, 24fps, Dolby Digital stereo audio (48kHz/16-bit)
Pre-order NIL BY MOUTH from the BFI Shop:
https://shop.bfi.org.uk/nil-by-mouth-blu-ray.html
BFI Blu-ray/DVD releases can be ordered from home entertainment online retailers or from the BFI Shop at
https://shop.bfi.org.uk/
About the BFI
We are a cultural charity, a National Lottery distributor, and the UK's lead organisation for film and the moving image.
Our mission is:
● To support creativity and actively seek out the next generation of UK storytellers
● To grow and care for the BFI National Archive, the world's largest film and television archive
● To offer the widest range of UK and international moving image culture through our programmes and festivals - delivered online and in venue
● To use our knowledge to educate and deepen public appreciation and understanding
● To work with Government and industry to ensure the continued growth of the UK's screen industries
Founded in 1933, the BFI is a registered charity governed by Royal Charter.
The BFI Board of Governors is chaired by Tim Richards.