Yesterday a whole bunch of people got together at Tompkins Square Park in Manhattan's Lower East Side for a good cause. To quote from the page set up for this event:

"As many of you know, Gary Miller (aka Dr. Know or Doc), guitarist of the Legendary Washington DC punk band Bad Brains, suffered cardiac arrest in early November last year. His condition quickly progressed to multiple organ failure, and he was on life support for almost 2 weeks. At the time, his doctors gave him a 5% chance of survival. But by the power of PMA, LOVE and FAMILY, he was able to pull through and survive.

He spent nearly three months in the hospital, until he was finally able to be transferred to a medical rehabilitation facility where he is getting the proper physical therapy and treatment that he needs to make a full recovery. In medical rehab, he continues to make incredible progress every day. Doc and his loved ones are now confident that he will make a full recovery and continue to touch our lives with his incredible music, kindness, and positivity."

Hats off to the people that put this together. While we didn't get there in time to see Antidote or Maximum Penalty play, we were able to see Cro-Mags, Token Entry and Breakdown and it all seemed to go off without a hitch. Yeah, fine, it was seven thousand degrees out and maybe not ideal for standing around in a park watching bands if you're susceptible to the heat but it was worth it. A really good crowd showed up and hopefully some decent money was raised for the cause. Those interested in donating who weren't able to attend are encouraged to check out the GoFundMe page set up here.

Below are some shots from the Cro-Mags' set, scroll past that for some video!




And some video, with full credit to the Chucky Brown's Hood TV Youtube Channel:

Cro-Mags: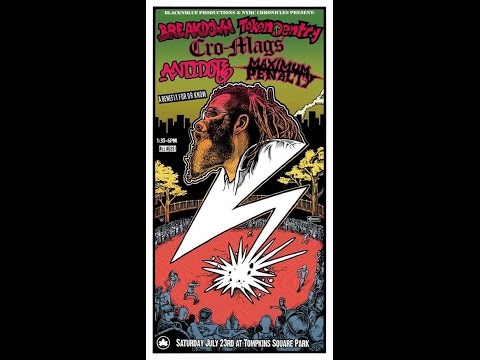 Token Entry: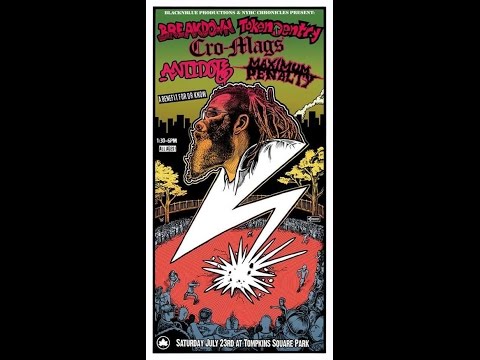 Breakdown: