Released by: MGM Limited Edition Collection

Released on: September 22, 2011

Director: Bob Kelljan

Cast: Jo Ann Harris, Jennifer Lee, Lisa Moore, Connie Strickland, Patricia Estrin

Year: 1974
Purchase from Amazon


The Movie:


The late Bob Kelljan worked a lot more in the TV industry than he did on feature films but he'll always hold a place near and dear to the hearts of many trash film fiends for films like Scream, Blacula Scream, the two Count Yorga pictures, and his last feature (and the crown jewel in his filmography), 1974's Act Of Vengeance, or as some like to call it, Rape Squad (a legitimate alternate title under which it did play certain territories).


When the film begins, a woman named Linda (Jo Ann Harris) is just hanging out and minding her own business while she feeds her horses when a psychopath in a jumpsuit and a hockey mask (long before Jason Vorhees made that chic!) hops out of nowhere and rapes her. Not only does her give her a good, hearty plowing but he verbally abuses her and degrades her by making her thank him for raping her and by making her sing 'Jingle Bells.' Linda does what any woman would do after being brutalized by a sexual predator, she heads straight to the local cop shop where the boys in blue more or less turn a blind eye to what happened to her and are even so bold as to infer that, hey, maybe she was asking for it in the first place.


Not one to take things lying down, she winds up teaming up with a few other female victims of recent sexual assaults - Nancy (Jennifer Lee), Karen (Lisa Moore), Teresa (Connie Strickland) and Angie (Patricia Estrin) - to hang out in a hot tub, look sexy and talk about what they should do about this recent rape epidemic. They decide to learn karate and then form…. RAPE SQUAD! What does RAPE SQUAD do? They patrol the city and take out men who may or may not be rapists. Seriously, these girls have some rather questionable tactics, and ENTRAPMENT SQUAD might have been a more accurate name but it probably wouldn't have looked as good on a marquee. At any rate, the girls hand out flyers in supermarket parking lots and lay the smack down on some leering truckers, showing off their legs and breasts and then beating up anyone who comments. They lure dudes out of nightclubs by pretending to be interested in them only to freak them out by pouring 'acid' on their balls and they generally show the cops how to really deal with rape problems. Unfortunately for our heroines, Mr. Jingle Bells is still running around raping the shit out of anyone he can get a hold of and he's been stalking them, setting into motion his sinister plan to get them all to the zoo where he'll give them all some more raping.


Rape Squad is a pretty conflicted movie. On one hand, it is obviously trying to point out that women should not be objectified or treated like sex objects and that, duh, you shouldn't rape them. This is noble and true and worthy of some respect, until you realize that the way these women go about doing that is by showing off their naked bodies, dressing in skimpy clothes and coercing guys out looking to get laid without forceful means to take them home… where they then kick the shit out of them. The scene with the truckers in the supermarket parking lot is another good example. On top of that, once the movie heads towards its big finish, our enlightened militant feminist characters soon make the same mistakes that any objectified sex object actress would make in your typical T&A loaded slasher film. As such, you can't take this movie very seriously.


But as a trashy good time at the movies? Hell yeah, Rape Squad delivers the goods. The dialogue is nothing if not consistently hilarious and often times educational. Case in point? When Linda asks Nancy how she feels about forming a RAPE SQUAD, Nancy asks how they go about doing that. A legitimate question, right? Linda's answer is to simply pull out a handy dandy newspaper article that shows them how to do just that and which reassures them that women all over the United States are forming RAPE SQUADS of their own. Who knew?


On top of the ridiculous dialogue we get an amazingly over the top performance from our central rapist, whose modus operandi sets a new standard for weird, we get the best 'look at that random giant pyramid of beer cans that's going to get knocked over in a minute' moment you're ever going to see, we get loads of wacky seventies fashions and some great overplayed melodrama. The whole thing isn't quite as seedy as it probably sounds, though it's not short on violence, nudity or, you guessed it, rape - as there's a bizarre playful atmosphere throughout the whole movie that makes it as watchable as the actresses' performances are amazingly wooden.


Video/Audio/Extras:


Act Of Vengeance looks better in this 1.85.1 anamorphic widescreen transfer than it has on the various fullframe bootlegs that have been making the rounds obviously taken from a tape source. There's plenty of minor grain evident throughout and some minor color fading here and there in addition to specks those small bits of print damage but none of it is really a serious issue. Detail isn't bad and there are no problems with compression artifacts, edge enhancement or aliasing to complain about. Colors look just a little bit faded in a few scenes here and there but fare well enough overall. The image is nothing to write home about and it seems obvious that more could have been done to clean it up than has been done here, but it's certainly perfectly watchable and the best option we have for the film on home video to date.

The English language Dolby Digital Mono audio track on the disc is well balanced and features clean, clear dialogue. The score also sounds quite good, as do the various sound effects used throughout the movie, so you'll be able to sing jingles bells on command without having to suffer with ear strain. Some hiss is present as is the occasional pop, but it's nothing too serious.

There are no extras outside of a static menu, not even a trailer, and that's a damn shame, because it definitely exists: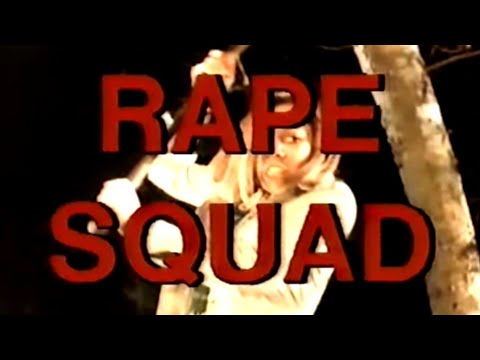 The Final Word:


Rape Squad is a movie about women who learn martial arts so that they can get revenge against a nutjob in a hockey mask that has a hard-on for Christmas Carols. If that doesn't sound like a good time at the movies to you, well, I guess we just have different tastes is all. In all seriousness though, this movie really should be better known in cult film circles than it is, and now that MGM has made it available, maybe that'll change even if this movie really deserved better treatment than it has received here.